Simon Stiles
[[Image: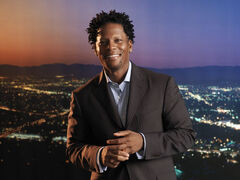 |center|284px]]
Key information
Behind the scenes
Simon Stiles is an actor on Studio 60 on the Sunset Strip (NBS).[1] He has been with the show for the past six years as of 2006.
Background
Edit
Professional Life
Edit
Simon is one of The Big Three actors on Studio 60 on the Sunset Strip (NBS). He has been on the show since its fourteenth season and worked with Matt Albie and Danny Tripp previous to their exit from the show.
Personal Life
Edit
As a young man, he grew up among poverty and gang violence [1] in South Central Los Angeles. He tells Matt Albie that most of his childhood friends are currently incarcerated for a retaliatory murder - that he was almost a part of. If it wasn't for the fact other gang members threatened him to stay away, he would have shared their fate. When he really made something of himself, he did what he could for his childhood friends, by sending the only things allowed to be mailed to a prisoner in a maximum security prison: stamps and cigarettes. Simon holds himself personally accountable for potential talent from similar backgrounds and does what he can to help others that grew up in the same area he did.
Education
Edit
Graduate of the Yale School of Drama
References
Edit
Official Site of Studio 60 (NBC)
↑ 1.0 1.1 http://www.studio60theseries.com/ Simon Stiles Biography