Jack Rudolph
[[Image: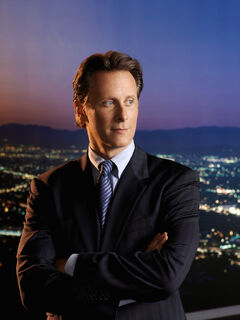 |center|284px]]
Key information
Behind the scenes
Jack Rudolph is Chairman of NBS.[1]
Background
Edit
Professional Life
Edit
Jack is a "highly successful and aggressive business leader".[1] He was responsible in part for the hiring of Jordan McDeere and shoulders the blame for the quitting of Matt Albie and Danny Tripp four years ago. He states in Nevada Day Part 2 that he is in fact a lawyer. 
Personal Life
Edit
Jack admitted to Kim Tao that he wants children, but that he is separated from his wife, Marilyn Rudolph. Later, it is revealed that the two are getting a divorce as he is tired of saying " I am sorry". He misses her very much and says that he won't ever get married again.
During the kidnapping of Mark Jeter, Jack offers to personally pay for the random. 
References
Edit
Official Site of Studio 60 (NBC)
↑ 1.0 1.1 http://www.studio60theseries.com/ Jack Rudolph Biography